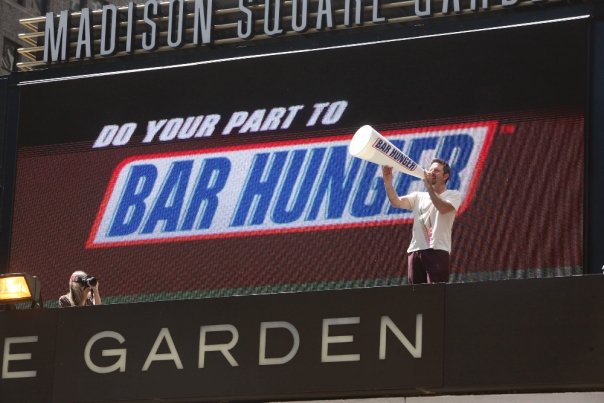 For some reason, listening to Sufjan Stevens's The BQE inspired me to blog. This cinematic/orchestral suite provides a sort of otherworldly soundtrack for the "pockmarked, serpentine, congested [Brooklyn-Queens Expressway]...one of Brooklyn's most notable icons of urban blight" [watch & listen to some of it here]. ANYWAY, that's not what I'm blogging about. There's just something about great music that inspires one's creativity.

While mindlessly surfing the web, I came across an ad for Bar Hunger, a campaign in which Snickers (Mars, Inc.) has partnered with the hunger relief organization, Feeding America. Here's how it works: when you buy a Snickers bar, the wrapper contains a code. You then enter the code at Snickers.com (or text it), and Mars will donate a meal through Feeding America.

Although I have yet to form any coherent opinions about this ad, I find it interesting for several reasons. The first is that rather than having customers enter codes for a (very small) chance to win prizes, the candy manufacturer has given chocolate lovers an opportunity to help someone in need with their purchase. I know that most people throw away wrappers that offer a chance of winning, so I wonder if more people will feel compelled to use that code to help somone. (And does it make you a bad person if you don't?)

I am also intrigued by idea of corporate social responsibility in this campaign. Is Mars a "good company" for making this switch? Or are they actually irresponsible for placing the impetus on the customer? Would it be better if they just donated a meal for every purchase (similar to the TOMS Shoes model)? Or are they actually to be praised for involving customers in the process by providing people with the opportunity to turn their candy purchase into charity?

And then there's the irony behind it: buy a chocolate bar in order to keep someone from starving.

Any thoughts?